Garden Sheds are possibly the most quintessential part of any British garden, that is why Cambridge Timber Buildings offers our customers in Cambridge and surrounding areas two main types of Garden Shed. We offer our Classic Range and Our Superior Range. The specifications vary slightly between the two and the choice is dependent upon both purpose and budget.
Our Classic Range is suitable for everyday garden use and is constructed with an Apex roof and features 50mm x 38mm PAR (Planed All Round) timber framing. For those looking for a more heavier duty design then our Superior Range is the perfect choice and features stronger 50mm x 50mm PAR timber framing.
Both styles of our Garden Sheds are crafted to the highest standard in our workshop near Cambridge. All our Garden Sheds are manufactured to withstand the worst of the British weather. Every Garden Shed can be configured to your own personal specification to match your exact requirements.
All our Garden Sheds come pre-treated with a light brown solvent based wood preservative. We also offer an option to have them further weather proofed using a coat of Sadolin Classic Wood Protection. Both our Classic Range and Superior Range are clad using ex. 125mm x 19mm thick Scandinavian Redwood shiplap which not only looks great but will help your shed resist the weather for years to come.
In fact, the shape and sizes of our Garden Sheds within our Superior Range are almost endless with different options available to suit your needs and your garden. Whether you need a Garden Shed with windows or without, one with a Pent or Apex roof, at Cambridge Timber Buildings we can help.
Speak to us in person today on 01353 667268 or email us and we will be happy to provide you with a competitive quote on a beautiful Quality Garden Shed, custom made to your requirements that will stand up to the great British weather for years to come.
Our Classic Range of Garden Shed is designed and built to serve as a "Traditional Garden Shed".
Whether you are looking to simply store your garden tools, garden furniture or lawn mower then this is a cost effective option. Depending on your preferred style, you garden shed is available with either an Apex or Pent roof. You are also available to chose which side you would like your windows as well as which gable end you would like to position your door.
The Classic Range comes in the following 7 standard sizes:
1.8M X 1.2M (6' x 4') 2.1M X 1.5M (7' x 5') 1.8M X 1.8M (6' x 6') 2.4M X 1.8M (8' x 6') 2.4M X 2.4M (8' x 8') 3.0M X 1.8M (10' x 6') 3.0M X 2.4M (10' x 8')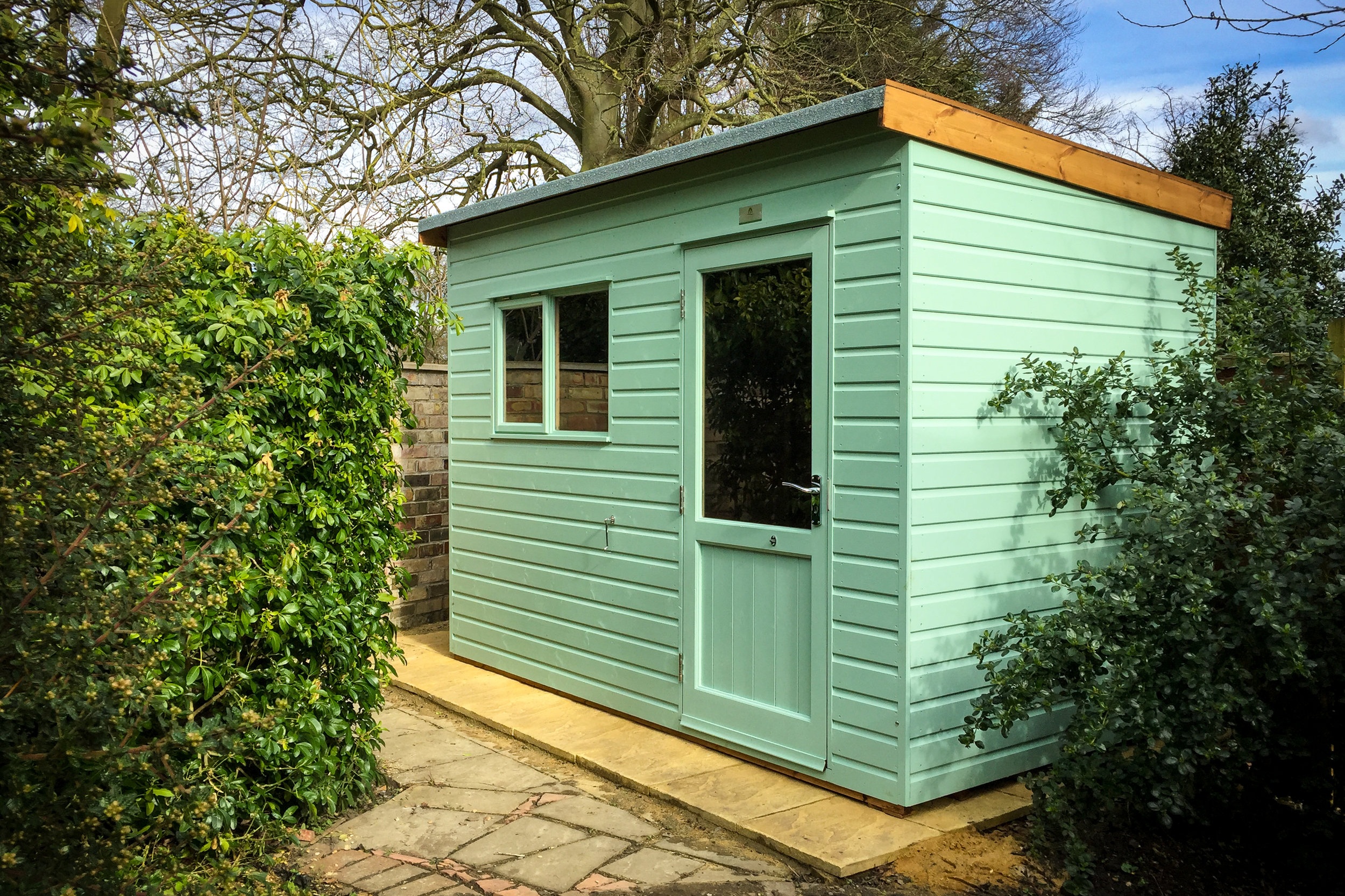 Our Superior Range of Garden Shed is more heavy duty than our Classic Range giving you a more secure option for storage and work use.
You can chose from either an Apex or Pent roof and unlike the Classic Range you have the option to position doors within the side walls because of the increased wall height. You also have the choice of joinery windows and doors with toughened glass, as well as the option to have the interior insulated and lined.
The Superior Range is available in a huge choice of sizes:
We offer a fully bespoke service so that your garden shed can be built to a specific measurement or design to fit into whatever space you have. As standard our roof finish is a 40kg heavy duty polyester based roof felt, however there are various additional options to choose from for your roof finish, EPDM, Felt Shingles, Cedar Shingles or Slate effect tiles. For a further level of weather protection you can chose from an array of colours to have your Garden Shed painted.